About Font Generator
Font generator is the best free online website to generate cool and stylish fancy fonts without any third party app.
Font generator website enables you to copy and paste fancy font styles from the largest collection of unique, cool fancy font generator for your instagram profile, facebook post/comments, twitter tweets, text or word documents, and anywhere you can type the text.
Below are the some of the example of font generator you can use for free.
𝐁𝐨𝐥𝐝 𝐅𝐨𝐧𝐭 𝐆𝐞𝐧𝐞𝐫𝐚𝐭𝐨𝐫
𝒞𝓊𝓇𝓈𝒾𝓋𝑒 𝐹𝑜𝓃𝓉 𝒢𝑒𝓃𝑒𝓇𝒶𝓉𝑜𝓇
𝕽𝖔𝖒𝖆𝖓 𝕱𝖔𝖓𝖙 𝕲𝖊𝖓𝖊𝖗𝖆𝖙𝖔𝖗
ˢᵐᵃˡˡ ᶠᵒⁿᵗ ᴳᵉⁿᵉʳᵃᵗᵒʳ
𝕆𝕦𝕥𝕝𝕚𝕟𝕖𝕕 𝔽𝕠𝕟𝕥 𝔾𝕖𝕟𝕖𝕣𝕒𝕥𝕠𝕣
Ⓑⓤⓑⓑⓛⓔ Ⓕⓞⓝⓣ Ⓖⓔⓝⓔⓡⓐⓣⓞⓡ
𝘐𝘵𝘢𝘭𝘪𝘤 𝘍𝘰𝘯𝘵 𝘎𝘦𝘯𝘦𝘳𝘢𝘵𝘰𝘳
𝙼𝚘𝚗𝚘𝚜𝚙𝚊𝚌𝚎 𝙵𝚘𝚗𝚝 𝙶𝚎𝚗𝚎𝚛𝚊𝚝𝚘𝚛
and many more font generators...
We implemented the simple and elegant and blazing fast user interface of the font generator to make it one of the finest fancy font generators loved by people all around the world.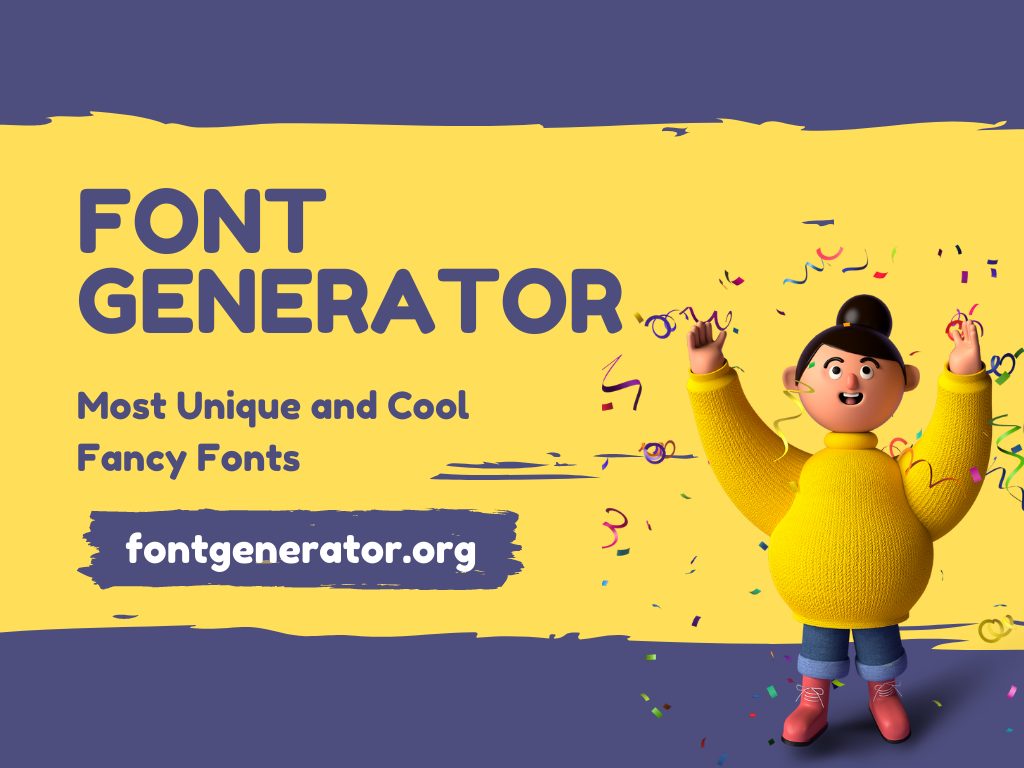 What makes font generator so unique?
There are tons of font generator/text generator websites on the internet(maybe you have visited those) using the same conventional fonts/ text styles.
@FontGen, We have developed our own architecture of the font generator website with a more unique fancy font style by spending hours and hours of the time (along with the conventional one.). These unique fonts styles you will not get on any other website.
We always acts on the feedback and queries of the users to make the font generator best in the class. For any questions or queries please use our contact page to reach us.
Font Generator ➳ 𝐁𝐞𝐬𝐭 ƇⰙⰙȴ font changer to ᕚ(copy and paste cool fonts)ᕘ ☝ ❝𝐌𝐨𝐬𝐭 ƇⱤƸ𐤠ƬƖƲƸ 𝐚𝐧𝐝 𝓤𝓷𝓲𝓺𝓾𝓮 𝐅𝐚𝐧𝐜𝐲 𝐅𝐨𝐧𝐭𝐬❞