Font Generator
Quick Tip: Tap or click on any fancy font block to copy the fancy font.
That's all cool font to copy and paste. 🤩
Quick Links for font Generator
About Font Generator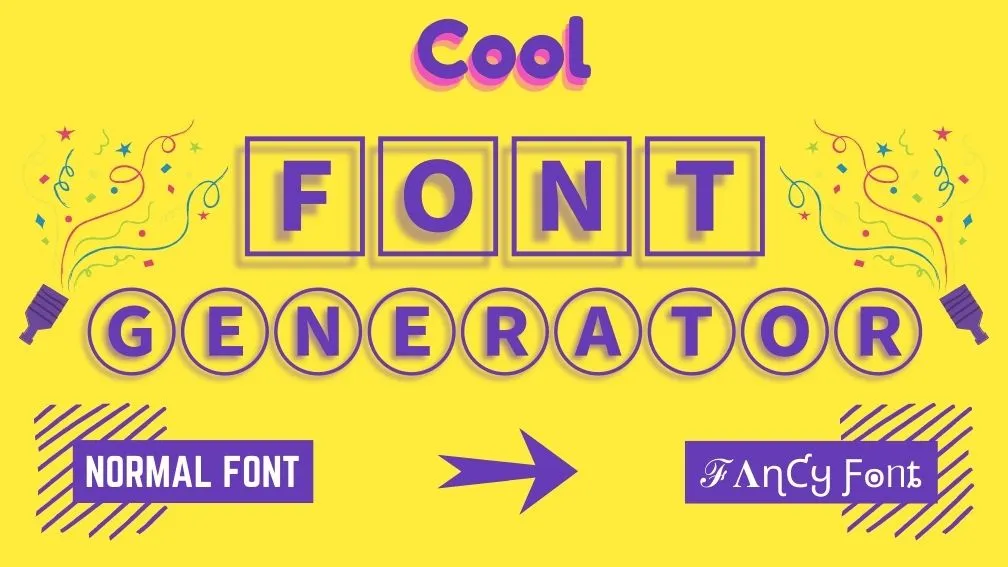 Font Generator
A super easy free online font generator with special cool fancy fonts.
Font Generator: Create Unique, Stylish Text with Ease
Font Generator is a free online tool that allows you to create unique, stylish text fonts with just a few clicks. With our font generator, you can easily create cool fonts, fancy text, and stylish fonts for social media, personalized gifts, branding, and more.
To use our font generator, simply enter your text and choose your desired font style. Once you have chosen a font style, the generated text will be copied to your clipboard. You can then paste the generated text anywhere you want, such as in a social media post, on a personalized gift, or on your website.
Our font generator is easy to use and completely free. There is no need to sign up or download any software. Simply visit our website, enter your text, and choose your desired font style.
Here are some of the benefits of using our font generator:
Create unique, stylish text with just a few clicks
Perfect for social media, personalized gifts, branding, and more
Easy to use and completely free
No need to sign up or download any software
Try Font Generator today and see how easy it is to create unique, stylish text with just a few clicks! for now inforation check font generator guide
How to use font generator?🤔
Using the fancy font generator is super easy. we can indentify below three steps to use the font generator super effectively to copy and paste fonts.
1
Type or paste the text
Enter your text by typing or pasting the text in the text box above and let the font generator do its job.
2
Copy cool font
Choose the lovely fancy text(scroll down to get more stylish text) and click the font block to copy font.
See more detailed information on how to use font generator page to get more help.
Unicode Font
Font generator uses the numerous Unicode and ASCII characters pattern to generate the fancy font. due to the fact of using ASCII and Unicode characters, the fancy fonts are supported by the major device, apps, and files without any hitch.
There are thousands of Unicode symbols and characters are available, among them font generator is using some of the Unicode characters to assemble the stylish Unicode font behind the curtain. Let's understand this by taking an example of how cursive font is generated. So when you type the word "be creative", the font generator picks cursive Unicode letters from the Unicode characters index or map and makes the stylish Unicode font "𝓑𝓮 𝓬𝓻𝓮𝓪𝓽𝓲𝓿𝓮" on the fly. The generated Unicode font contains various Unicode characters including mathematical bold script capital 𝓑.
You can make the fancy font by finding the Unicode characters manually on the Unicode website by putting Unicode characters one by one. But you know it's a time-consuming and tedious process. Font generator automates that tedious process of generating stylish fonts character by character and lets you create your own cool font. Bold font generator, cursive font generator, roman font generator, strikethrough font generator, bubble font generator, small font generator are some widely used examples of font generators.
Copy And Paste
Copy and paste are the life-saving commands to transfer the data on the computer interface. We all know when you copy the text, the computer saves it on the temporary storage called a clipboard and you can retrieve it back using the paste command.
Font generator allows you to copy and paste fonts freely. Either you can select the fancy text and use the copy-paste keyboard shortcuts or use the one-click copy fancy font interface of the font generator website.
You can copy and paste font to an Instagram bio, Facebook post, Twitter tweet, or show off your creative names to rookies on the gaming steam or can send messages via Whatsapp, Telegram, or signal full of glamorous text to your friends and family.
✱ FAQ Of Font Generator ✱
Here is the frequently asked question about the font generator by the users on the internet and via contact form. If you have any further questions except the ones listed below, you can contact us with your query, we will surely answer you soonest possible.
How do you make fancy font?

The internet offers a plethora of font generator tools designed to create fancy fonts effortlessly. These tools transform your regular text into a variety of stylish font styles, utilizing intricate patterns and algorithms running in the background. Once you've selected your preferred fancy font style, it's a simple matter of copying and pasting it wherever you please. This seamless process opens up a world of creative possibilities for enhancing your text and making it stand out.

How do I make my name bigger?

Increasing the size of your text can be a tricky task when using standard fonts, primarily due to text height limitations. When faced with such a challenge, dividing your text into multiple lines offers an effective solution to create the illusion of larger fonts. Alternatively, you can opt for a "big text generator" to streamline this process. Websites like FancyTextPro and Fsymbol come highly recommended for their seamless ability to generate large fonts, providing a convenient and efficient method to achieve attention-grabbing, oversized text.

How do you make fancy letters on a keyboard?

While it's technically possible to create fancy letters using keyboard shortcuts, it can be quite complex and time-consuming. A far more convenient and efficient method to generate fancy letters is by utilizing a dedicated font generator website. These tools make it easy and quick to produce a wide variety of fancy letters, offering a hassle-free solution for enhancing your text with style.

How can I make my text bold?

Certainly, there are Unicode characters designed to create bold fonts. While manually copying and pasting these characters one by one is an option, it's quite time-consuming. Fortunately, you can simplify this process by using a bold font generator or a bold text generator tool. These tools allow you to input your text, and with a simple click, they transform it into bold fonts, saving you valuable time and effort.

What is the best font generator?

The discussion about font generators is indeed widespread. While Lingojam was one of the first websites to create fonts, many other websites have since followed similar patterns. From our standpoint, Fancy Text Pro stands out as the best font generator website. This is attributed to its simple and elegant interface, as well as its offering of unique and diverse styles of fancy fonts.

How do you use stylish text?

Stylish fonts are versatile and compatible with a wide range of apps and websites, including Facebook, Twitter, and Instagram. You can also seamlessly use them in your text and word documents without any compatibility issues.

How to make cursive font?

The Font generator provides you with a user-friendly and efficient cursive font generator. This tool instantly converts your text into captivating mathematical alphanumeric cursive script letters. The resulting cursive fonts are ready for you to copy and paste seamlessly onto platforms like Facebook, Instagram, and Twitter. Elevate your text and give it a unique touch with the convenience of this tool.

What is bubble fonts?

Bubble fonts are essentially creative arrangements of Circled Unicode letters. They are often referred to as circled fonts and are a fun way to make your text stand out. With our bubble font copy and paste tool, you can craft your unique bubble font styles. This is perfect for adding a distinctive and eye-catching touch to your chat messages or Instagram profile. Be different, be unique, and create bubbly text effortlessly.

How can I make calligraphy fonts?

Calligraphy, an ancient art form for crafting elegant letters with a flat-edged pen, has been practiced in diverse global traditions. The Font Generator provides a wide array of calligraphic styles, encompassing even mathematical fraktur letters.

how to use a font generator on instagram?

As you input your desired text into the Font Generator's text box, a dazzling array of cool and stylish fonts awaits you on the website. After choosing your favorite fancy font, a simple click allows you to copy it. To elevate your Instagram profile, access the profile's editing mode and locate the text insertion feature for your bio. Paste the stylish text, and with a click of the submit button, your bio is transformed. Don't forget, you can also apply these stylish fonts to your Instagram username by following a similar process.