Duck Soup Copy™
Font generator is a free cool font changer website that lets you make amazingly beautiful fonts with less effort. you do not need any app to install on your mobile to make cool fonts. Here are the steps to make cool styles of fancy fonts for Instagram, Facebook Twitter, and any other app where you can write.
What is Duck Soup Copy™?
The meaning of Duck soup is "an easy task". Ideally, To copy and paste any text on any platform you need to select the text and copy the text (either shortcut or via menu) which is best technique to copy the text. Conventional Copy and Paste text is essential when there is no special purpose to let user copy the text.
On our study we found that most of the user like to copy and paste the text but it is not offering the excellent user experience it should offer. At Font Generator we wanted to enhance the user experience as much as possible. For this reason we developed a easy method to copy fancy fonts.
With the help of Duck Soup Copy you do not need to select the text manually and copy the text either via shortcut command or via menu. but it lets you copy the text by just clicking or taping on the text. We made it available to copy cool fonts for now.
below image illustrates how you can copy the fancy fonts by just a click.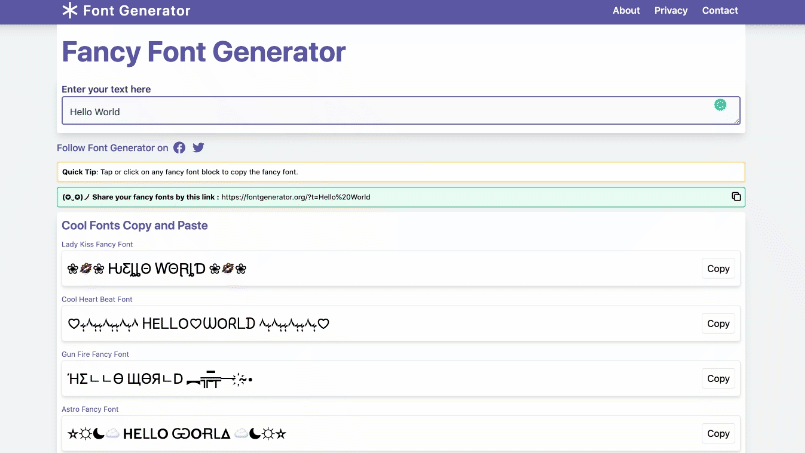 Disclaimer: It is not an invention, it is used by various sites over the internet. we just give a proper name to the method of copying the text.
Hope you like to copy fancy text using Duck soup copy function.
Follow the font generator on Facebook and Twitter to get the latest updates.