Corrupted Text Generator
Quick Tip: Tap or click on any fancy font block to copy the fancy font.
Corrupted Text Generator
Corrupted Text

Corrupted Text is loading...
That's all cool font to copy and paste. ¯\_(ツ)_/¯
About Currupted Text Generator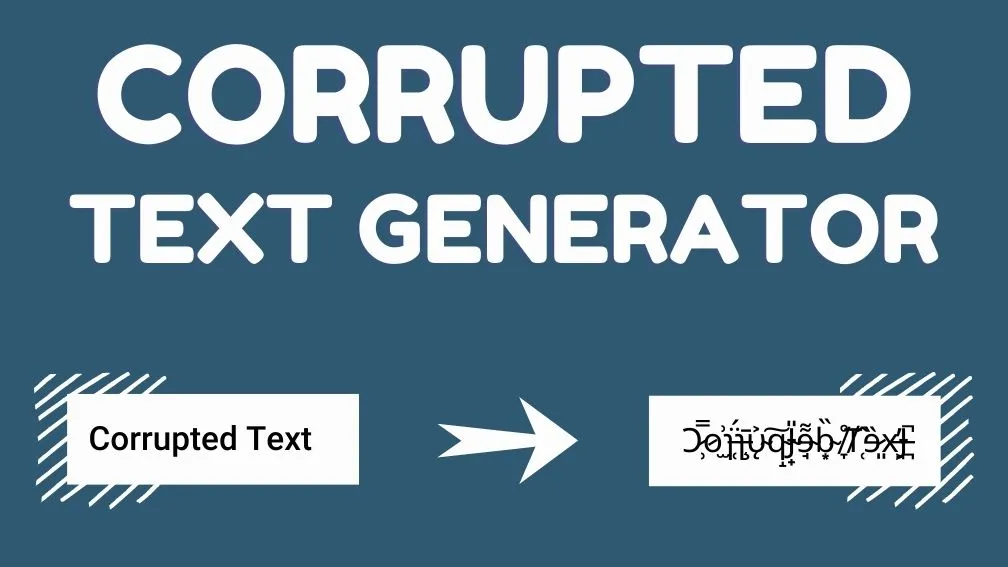 Currupted Text Generator
A free Currupted text generator with custom text Crazyness level changer.
Corrupted Text Generator is yet another free online text generator that converts your plain text into messy-looking text. The Glitch text looks glitchy and scary visually. it is also known as Zalgo Text Generator, Corrupted Text Generator, Cursed Text Generator, Distorted Text generator.
Corrupted text is abnormal text made using the nonspacing combining Unicode characters, which is can not be typed by the keyboard easily. Because of this, the Corrupted text is not so easy to write using the keyboard.
Corrupted aka Zalgo text has become very popular across the Internet memes community especially in the culture of surreal memes.
Similar to the Zalgo text generator, the Corrupted text generator helps you to combine nonspacing Unicode letters above and below on your text randomly to make your normal text glitchy or distorted on the fly for any desired text. There is more, using the Crazyness level changer you can change the mess level on your text. this gives feasibility to the user to adjust the visibility of the text on the fly.
Normally messy text is not well visible on all platforms and apps, but you can still enjoy it on Twitter, Facebook, Whatsapp chat without any issue.
How to use Currupted text generator?🤔
Using the Currupted text generator as similer as fancy font generator. here are the three easy steps to use the Currupted text generator super effectively to copy and paste Currupted text.
1
Type or paste the text
Enter your text by typing or pasting the text in the text box above and let the Currupted text generator do its duty.
2
Copy Currupted text
Adjust Crazyness level of Currupted text and click on the text to copy glitched text.
3
Paste Currupted text
Go to the app, website or document of your choice and paste the Currupted text (learn how to paste text).
See more detailed information on how to use font generator page to get more help.
✱ FAQ Of Currupted Text Generator ✱
Here is the most asked question about the Currupted text generator by the users on the internet and via contact form. If you can not find your answer please send your queries to our contact page, we will surely answer you soonest possible.
Is the Corrupted text generator is same as the Zalgo text generator??

If you look closely at the Corrupted text, the text hidden behind the messy characters is mirrored characters which are different from the Zalgo text generator.

Visit the Zalgo Text Generator for more information.