Aesthetic Font Generator
Quick Tip: Tap or click on any fancy font block to copy the fancy font.
Stylish Aesthetic Fonts
Aesthetic Small Font

Aesthetic Small Font is loading...

Flowery Fonts

Flowery Fonts is loading...

Artistic Font Generator

Artistic Font Generator is loading...

L♥ve Font
Top Gun F✪nt

Top Gun F✪nt is loading...

Tsu F㋡nt
Rose & Skull Font

Rose & Skull Font is loading...

Wild Arrow Font

Wild Arrow Font is loading...
That's all cool font to copy and paste. 🤩
Quick Links for font Generator
About Aesthetic Font Generator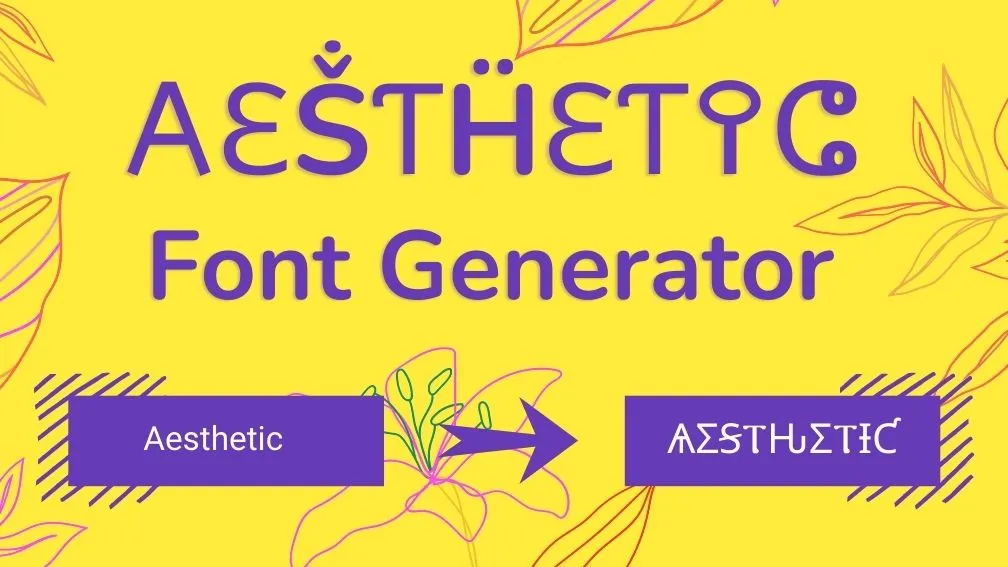 Aesthetic Font Generator
Aesthetic font generator makes the most beautiful styles of fancy fonts ready to copy and paste.
Aesthetic font generator is yet another fancy text generator to lets you make cool font free online. Aesthetic fonts are the most beautiful fonts on fontgenerator.org As the word aesthetic means concerned with beauty, we are inspired to make it the most attractive font style.
The Aesthetic font generator uses the most beautiful Unicode character, symbols, and emojis to assemble the fancy fonts. Unicode characters are supported by major devices, apps, websites, and documents. 
When you type the text in the text area the font generator executes a simple algorithm to map each character you enter with cool fancy letters and produce the fancy fonts. All this process happens in a matter of milliseconds.
To copy the fancy fonts you just need to tap or click on the fancy text block. this is possible with the help of the Duck Soup Copy™ engine. which reduces your efforts to copy aesthetic fonts.
Aesthetic fonts look cool and increase the curiosity of your friends when they copy and paste on a Facebook post, Instagram bio, Twitter tweets, or Whatsapp chat.
The font generator website is equipped with hundreds of different styles of fancy font, to get more style of fancy font you just need to scroll down and the font generator website will load a new block of the fancy font for you.
How to use Aesthetic Font Generator?🤔
Using the Aesthetic Font Generator as similer as fancy font generator. here are the three easy steps to use this tool super effectively to copy and paste Small Texts.
1
Type or paste the text
Enter your text by typing or pasting the text in the text box above and let the Aesthetic Font Generator do its duty.
2
Copy Small Text
Choose any Small Text from the list and click or tap font block to copy Small Text.
3
Paste Small Text
Go to the app, website or document of your choice and paste the Small Text (learn how to paste text).
See more detailed information on how to use font generator page to get more help.
✱ FAQ Of Aesthetic Font Generator ✱
Here is the most asked question about the Aesthetic font Generator by the users on the internet and via contact form. If you can not find your answer please send your queries to our contact page, we will surely answer you soonest possible.
What is meaning of Aesthetic?

The meaning of Aesthetic is "concerned with beauty or the appreciation of beauty".

What is Aesthetic fonts?

Aesthetic fonts are nothing but a stylish font style that looks visually beautiful without any app or external CSS font style.

What is difference betwen fancy font generator and Aesthetic font generator?

The major difference between a fancy font generator and an Aesthetic font generator is the font styles generator. the Aesthetic fonts is using more beautiful font styles than the fancy font generator

Can Aesthetic fonts be used on whatsapp chat?

Yes, you can use the Aesthetic fonts on the whatsapp chat without any issue, It will help you to impress the person on the other side chatting with you.

Can I use the Aesthetic fonts for Instagram Bio?

yes, As instagram supports the major unicode charactors you can use the Aesthetic font without any glitch. but you can also check the Instagram font generator also for more fancy font styles.
We hope that you like using this handy cool Aesthetic font changer! Please share your feedback and comments to improve this online to make the world's best font generator.
At font generator we are constantly adding new original font style for you, We aim to make the fontgenerator.org super handy website for cool fonts.
Thank you for the magnificent support!