Font Generator
Quick Tip: Tap or click on any fancy font block to copy the fancy font.
Beautiful Fonts Copy and Paste
Floral Fancy Font

Floral Fancy Font is loading...

Copious Font Generator

Copious Font Generator is loading...

Old Italic Font

Old Italic Font is loading...

Blocky Fancy Font

Blocky Fancy Font is loading...

Javanese Fancy Font

Javanese Fancy Font is loading...

Double Gun Font Generator

Double Gun Font Generator is loading...

Tai Viet Font

Tai Viet Font is loading...

Zig Zag Font Generator

Zig Zag Font Generator is loading...

Ping Pong Fancy Font

Ping Pong Fancy Font is loading...
That's all cool font to copy and paste. 🤩
Quick Links for font Generator
About Font Generator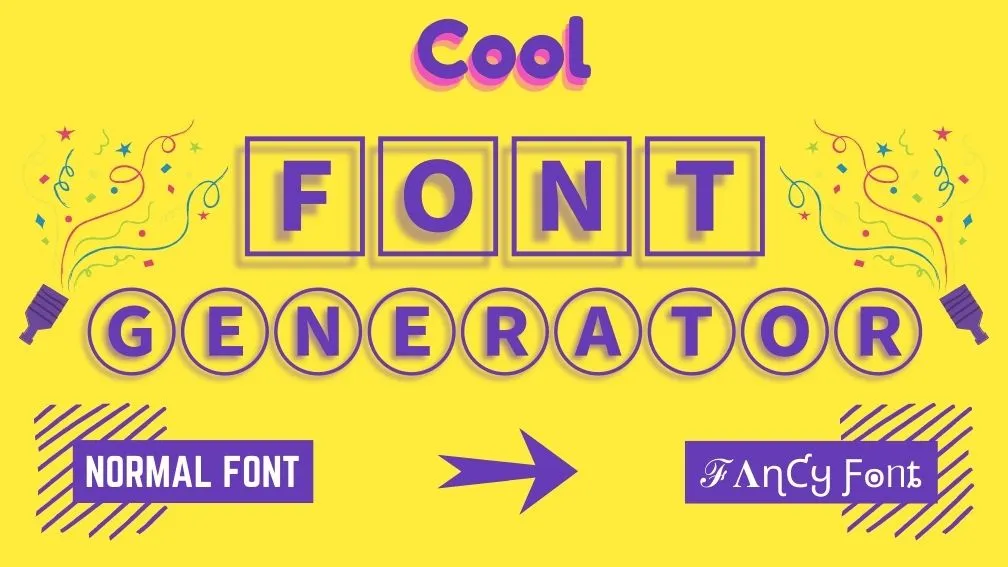 Font Generator
A super easy free online font generator with special cool fancy fonts.
Font generator is a website to generates a cool font and lets you copy and paste hundreds of unique cool fancy text with minimal effort. Fancy fonts are made of a stunning arrangement of Unicode characters which is mostly supported by major devices, platforms, and apps.
Many times you have noticed some person's name on social profile looks so creative or someone chatting with you is sending a stylish text on the messages. the fancy text is not a surprise anymore.
fontgenerator.org is a fancy font generator website with unique styles of cool fonts to copy and paste for your Instagram bio, Facebook post/comments, Twitter tweets, text or word documents, and anywhere you can type the text.
the simple and elegant user experience with a catalog of unique and stylish fonts makes this font generator website stand out from the other website.

Font generator can make 𝐁𝐨𝐥𝐝, 𝓒𝓾𝓻𝓼𝓲𝓿𝓮 𝓁𝑒𝓉𝓉𝑒𝓇𝓈, 𝕽𝖔𝖒𝖆𝖓, Cυɾʅყ, ˢᵐᵃˡˡ, 𝕆𝕦𝕥𝕝𝕚𝕟𝕖𝕕, S̶t̶r̶i̶k̶e̶t̶h̶r̶o̶u̶g̶h̶, Ⓑⓤⓑⓑⓛⓔ, Z̷̨̑͝a̵̗̜͈̔̿̕l̵̲͊̀̊͌͆͘ġ̴̨̡̧̛͙̰̫̈́͊͝͝o̷̮̻̱͛, and hundreds more cool font styles without installing any app.
The fancy fonts generated by this font generator are made out of the unique pattern of Unicode symbols, signs, and emojis, which is supported by the majority of devices and platforms.
We hope you will love our awesome platform for making cool fonts. We are constantly updating and adding stylish font on font generator algorithms to serve you the best fancy font on this planet.
How to use font generator?🤔
Using the fancy font generator is super easy. we can indentify below three steps to use the font generator super effectively to copy and paste fonts.
1
Type or paste the text
Enter your text by typing or pasting the text in the text box above and let the font generator do its job.
2
Copy cool font
Choose the lovely fancy text(scroll down to get more stylish text) and click the font block to copy font.
See more detailed information on how to use font generator page to get more help.
Unicode Font
Font generator uses the numerous Unicode and ASCII characters pattern to generate the fancy font. due to the fact of using ASCII and Unicode characters, the fancy fonts are supported by the major device, apps, and files without any hitch.
There are thousands of Unicode symbols and characters are available, among them font generator is using some of the Unicode characters to assemble the stylish Unicode font behind the curtain. Let's understand this by taking an example of how cursive font is generated. So when you type the word "be creative", the font generator picks cursive Unicode letters from the Unicode characters index or map and makes the stylish Unicode font "𝓑𝓮 𝓬𝓻𝓮𝓪𝓽𝓲𝓿𝓮" on the fly. The generated Unicode font contains various Unicode characters including mathematical bold script capital 𝓑.
You can make the fancy font by finding the Unicode characters manually on the Unicode website by putting Unicode characters one by one. But you know it's a time-consuming and tedious process. Font generator automates that tedious process of generating stylish fonts character by character and lets you create your own cool font. Bold font generator, cursive font generator, roman font generator, strikethrough font generator, bubble font generator, small font generator are some widely used examples of font generators.
Copy And Paste
Copy and paste are the life-saving commands to transfer the data on the computer interface. We all know when you copy the text, the computer saves it on the temporary storage called a clipboard and you can retrieve it back using the paste command.
Font generator allows you to copy and paste fonts freely. Either you can select the fancy text and use the copy-paste keyboard shortcuts or use the one-click copy fancy font interface of the font generator website.
You can copy and paste font to an Instagram bio, Facebook post, Twitter tweet, or show off your creative names to rookies on the gaming steam or can send messages via Whatsapp, Telegram, or signal full of glamorous text to your friends and family.
✱ FAQ Of Font Generator ✱
Here is the frequently asked question about the font generator by the users on the internet and via contact form. If you have any further questions except the ones listed below, you can contact us with your query, we will surely answer you soonest possible.
How do you make fancy font?

On the internet there are lots of font generator tools available to make fancy fonts for you, the font generator tools change your text into different fancy font styles based on the pattern and algorithm applied in the background instantly. Once you decide on the fancy font style, you just need to copy and paste it everywhere.

How do I make my name bigger?

To make the name bigger, you can not use the normal fonts with one line because of the text height limitation, you need to write it in multiple lines if you really wanted to make the huge fonts. You can search for the "big text generator" to do the stuff for you. FancyTextPro and Fsymbol are the best websites that make the big fonts effortlessly.

How do you make fancy letters on a keyboard?

There are limitations with the keyboard to make the fancy letters, but yes, there are ways to make fancy letters on the keyboard which is complex and time-consuming. The best way to make the fancy letters is to use the font generator website.

How can I make my text bold?

There are bold unicode characters available to make the fonts bold. You can copy and paste one by one characters to make the bold font text but this is a time-consuming process. Bold font generator or bold text generator tools do the same job for you, just enter the text and the tool will change your text into bold fonts.

What is the best font generator?

Well, this is a widely discussed topic. Lingojam was the first website to generate the fonts but most of the website uses the same pattern of the fancy fonts. From our perspective fancy text pro is the best font generator website coz of the simple and elegant interface and unique styles of fancy fonts.

How do you use stylish text?

You can use the stylish font mostly on any apps and websites like facebook, twitter, instagram. Also you can use it on your text and word documents without any issue.

How to make cursive font?

Font generator offers the cursive font generator, which changes your text to mathematical alphanumeric symbols cursive script letters on the fly. the generated cursive fonts you can copy and paste on Facebook, Instagram, and Twitter.

What is bubble fonts?

Bubble font is nothing but an arrangement of Circled Unicode letters. it is also known as circled fonts. you can make your own bubble font copy and paste to use in the chat messages or Instagram profiles to look different and unique.

How can I make calligraphy fonts?

Calligraphy is ancient visual art for writing stylish letters using a flat-edged pen in various world traditions. font generator offers numerous styles of fancy calligraphic letters including mathematical fraktur letters.

how to use a font generator on instagram?

When you enter the text on the font generator textbox, you will see plenty of cool stylish font on the font generator website. Once you coose your favourite fancy font, you just need to click to copy the font and open your instagram profile in edit mode, Where you will see option to add text on your bio. you just need to paste the test on the Bio and click on the submit button. P.s. you can also use the stylish font on your instagram name which you can update in similar way.